PROFESSIONAL TV MOUNTING INSTALLATION SERVICE
Starting at $55
Next Day TV install offers Residential and Commercial TV Mounting installation and Dis-Mounting services for LED, LCD, O-LED and Q-LED TV's. We provide typical solutions, such as wall mounts and ceiling mounts, as well as custom solutions. Next Day TV install can install televisions at a single site or serve as your one point of contact to coordinate multiple jobs at many locations. We currently serve Maryland Residential Customers in Anne Arundel County, Baltimore County, Carroll County, Cecil County, Harford County, Howard County. Commercial customers in MD, DC, PA, VA. We are working on expanding our installation area. Please contact the us if you are having issues finding services like ours in your area. We have thousands of excellent partners.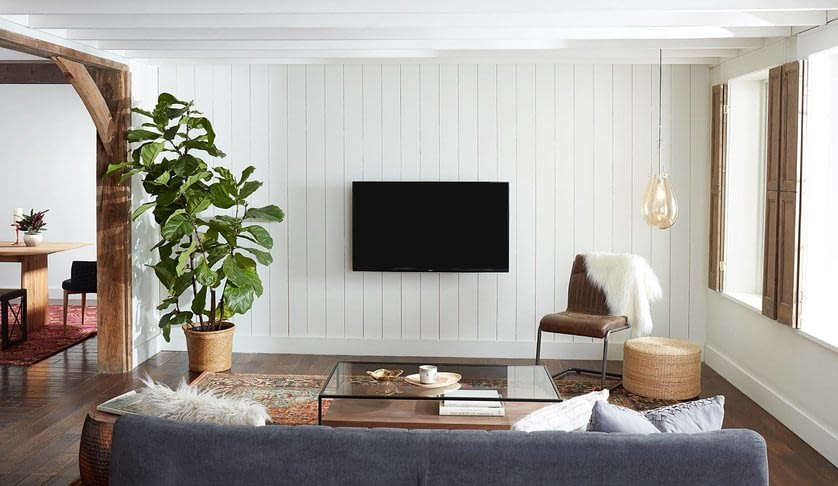 OVERVIEW OF A TYPICAL TV INSTALL PROCESS

Quote Stage – A phone conversation with one of our amazing Account Representatives describing the specifics of the project. Usually we can give you an accurate estimate as long as you know what it is your looking to do up front. Once estimate is approved and in most cases a deposit is received we then move on to scheduling the Installation.
Site Survey – If necessary, a preliminary site visit can be arranged. This typically is done for custom solutions and or clients that want advise and different options. We call it educating our clients.
Initial Prep Setup – A professional installer arrives at the scheduled time and performs any preliminary work, Including unpacking televisions and mounting hardware.
Mounting – A mount to hold the television is installed. Typically these are wall-mount or ceiling-mount frames that are either fixed, swivel-mount or featuring a flexible arm. A load test is always conducted with every mount. Below is a mounting bracket guide to better help you select a mounting bracket right for you.
Install TV – The television is then secured to the mounting hardware.
Cable Run – Audio/Video cables are then run from the television to the signal source. Our technicians will conceal these cables in the ceiling or wall or, otherwise, neatly arrange them depending on your needs.
Signal Source – The cables are connected to the signal source.
Verify Operation – Technicians ensures proper visibility and operation of your unit.
Clean Up & Waste Disposal – We take care of the mess.
Quality Assurance – At the conclusion of your install, you will be asked to sign a completion form that helps us ensure a quality installation and your complete satisfaction. You will also receive a phone call after your installation to make sure your TV installation was as pleasant as you hoped. Next Day TV install wants to make sure you are 100% satisfied. We are highly rated for having great customer service.
Warranty – We offer a lifetime installation warranty on craftsmanship. 100% Satisfaction Guarantee
We can provide supplies such as cables, mounts, and brackets at reasonable cost. Advance notice is appreciated. We carry a wide selection of cables, including: HDMI, coaxial, composite, RCA, VGA, and plenum-rated cables for fire safety.
We have installed televisions in many commercial and educational environments, such as: churches, classrooms, schools, lecture halls, conference centers, night clubs, bars and restaurants, casinos, hotels, retail stores and showrooms, banks and financial institutions. Knowing the features and advantages of the different types of television mounts will help when choosing which type of mount to purchase.
We have provided a chart below to assist you with selecting the right mount for your project. You can also visit our partners website using the following link :https://www.sanus.com/en_US/mountfinder/#!step1
| Type | Description | Advantages and Disadvantages |
| --- | --- | --- |
| | Flat or fixed mounts, secure a TV flat against a wall and offer no range of motion. Great for large TVs over 55 inches, or plasma TVs with wide viewing angles. | These inexpensive mounts require minimal space, with as little as one inch between the TV and the wall. Inputs and wires cannot be accessed unless the TV is removed from the mount. |
| Tilt | Tilt mounts, allow the vertical viewing angle to be adjusted up or down by 15 to 20 degrees. Great for installations above eye level. | Easy to install and relatively inexpensive. Inputs can be accessed more easily than with flat mounts. Adjustment is limited, as the tilt feature does not allow side-to-side adjustments. |
| Full Motion | Articulating or full-motion mounts, these mounts allow both side-to-side and up-down adjustments. These mounts are good choices for large rooms with multiple TV viewing locations. | Cantilever arms can be extended out from a wall, allowing easy viewing from almost any angle. Articulating mounts are considerably more expensive than other mounts and are more difficult to install. |
| Ceiling Mount | Ceiling mounts, attach to the ceiling and feature a mounting plate that attaches to the TV on the end of a hanging pole. Most of these offer side-to-side and up-down adjustment. | Ceiling mounts work well when it is not feasible to hang a TV from a wall. With ceiling mounts, it can be challenging to discreetly hide wiring if this is an issue for the consumer. |